I guess one of the first questions to ask yourself: Do you really want to? And what I mean by this question is do you really want to start your own freight brokerage business complete with all the business responsibilities associated with conducting and maintaining an effective thriving operation? This book clearly demonstrates at a high level the requirements of operating a freight broker business with pointers directing you to additional resources and information. In part two "Start Your Own Freight Brokerage Business" we will review the some preliminary detail you can expect to get out of purchasing this book with a brief assessment of the first chapter.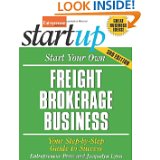 First, note the book is rather small, about 100 pages, so if you are expecting a comprehensive manual that will guide you step by step through establishing your business procedures and operations then this is not the book for you. Perhaps look at the other books and resources we will be continually reviewing here at a future point in time. Not to diminish the true value of the book it does offer a pretty good overview and place to start and commence your exploration into becoming a Freight Broker, or Freight Broker Agent.
Most books start out with a chapter that define the key terms or players you are most likely to find in the book or industry. This book is no different it starts with a clear view of how Freight Brokers effect our daily life including what they mean to the average citizen. Freight Brokers serve as intermediaries in getting goods delivered to the local market place from points or origin and entry or manufacture. As indicated in other posts a growing population increases the need for the movement of goods. Who are the players in this scenario? The book identifies the following "players":
Freight Brokers or Freight Broker Agents – The intermediary.
Shippers – Has the goods to move.
Carriers – Has the truck to move the goods.
Freight Forwarder – Small shipment consolidator.
Import-Export Broker – International Freight logistics.
Agricultural Truck Broker – Regional Brokers for exempt Agricultural products.
Shippers Associations – Typically cooperative organization designed to lower transportation costs.
The first question that should probably pop into the mind of the average do it yourself person is: "Why do I need a broker?". The first answer is one of specialization. Unless you have the resources to coordinate all of your organization's transportation needs then you probably should consider creating a good solid relationship with a good Freight Broker where you can outsource your logistics requirements. By outsourcing to a trusted entity like, Coastal Transportation Services, you can keep your focus on the quality production of your goods. Second, consider the cost in terms of the time and manpower required to secure and manage the individual transportation requirements, it could be a significant burden to the organization.
In completing the first chapter of the book the author considers additional topics and questions including:
How freight brokerages started with a review of several
Hours of operation, is this a full or part-time business opportunity, with a recommendation
Should you specialize your freight expertise, there are benefits to both considerations
Do you have what it takes?
These points are valid considerations though the final point is worthy of considerable attention. When making an assessment of your ability to perform as a freight broker, "do you have what it takes?". Only you can determine this fact outright. Industry experience and knowledge will assist you to a point, you have to make the sale. The Freight Broker, (Freight Broker Agent), will have to be able to negotiate with shippers, truckers, financial personnel, manage stressful situations, make quick decisions, multi-task, and communicate with a variety of industry representatives in a effective manner. Industry knowledge will be a critical factor in your success and will require that you hone your skills to a razor sharp point.
To borrow a phrase: "Do you have the right stuff?". If you have experience in the industry you might want to review Coastal's offerings, contact us through our recruiting form for a no nonsense discussion of the business and its opportunities. Click Here! I would also encourage you to look at our testimonials and question our organization on why we can make these statements. Testimonials!